Thank you for your interest in applying for a position at Golden City Support Services.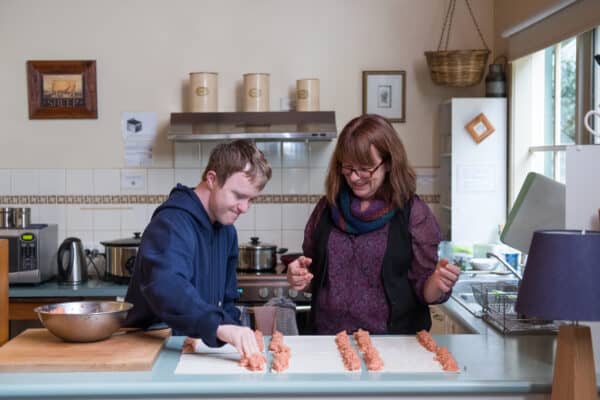 Why Support Services is the right career for you?
Just out of school and looking for a career with a future?
Looking to return to the workforce?
Graduating from tertiary studies and seeking experience in the community sector?
Want to work for a not-for-profit organisation and make a difference in your community?
Want to position your career in the fastest expanding sector in Victoria?
Want to develop real, transportable skills?
Previous experience in disability support or mental health isn't necessary. We provide ongoing training and coaching so you can continually learn how to actively engage and support people in their lives.
Benefits of working with us at Golden City Support Services
Becoming a Disability Support Worker is a rewarding position, supporting people with disability to connect with and participate in their community.
Some of the benefits include:
A family friendly workplace
Training and career opportunities
Paid induction and expert, ongoing, on-the-job training
Employee Assistance Programme
Ability to plan ahead by receiving your roster four weeks in advance
Paid team meetings
Internationally recognised support worker training
Ongoing Mentoring
Ongoing skills development, which can lead to career opportunities
Be a part of a workplace that celebrates and respects diversity
Detail around the services we provide and how we provide them.
If this matches to your skills and interests, follow the link to continue to our Application Form.
Short-term accommodation or Residential home support (Supporting people to live in a home setting or in overnight group short-term accommodation. Includes rostered sleepovers – paid sleepover allowance in staff sleepover room).
We support participants at several residential settings (Bendigo and Echuca), both in an individual and group capacity. These supports are 24/7 and support participants in activities of daily living, everyday independence, accessing the community, living in their own home and achieving the participant's goals.
We also support participants in several respite settings. We have three houses (two in Bendigo, one in Gisborne) which provide support for up to five participants at any one time. Each participant books a short-term stay to allow their primary caregiver a break. Supports in each space vary greatly as we support people with a broad range of disabilities including intellectual and physical disabilities.
In respite we support people to be involved in recreation, new experiences, encourage friendships and to build independence away from their usual accommodation.
Personal care (some supports involve personal care)
In all of our support areas, there may be the requirement to assist a participant with personal care. This is a broad term used to refer to supporting a person to maintain their personal appearance, toileting, dressing and personal hygiene routines.
We enable participants to complete as much of this routine independently and assist where required – this means that with each individual person there is a different level of assistance needed. Different supports could vary from verbally talking a participant through the steps to brush their own teeth, to assisting a participant with an aid change (hoisting may be required).
Mental Health: (Supporting individuals and groups in the community)
We have a dedicated area of mental health supports that assist participants to access and contribute to their community, to build and maintain positive relationships, and complete daily living tasks. We also support many participants who have a dual disability, which is a disability paired with a mental health condition.
Community based work not in people's home (supporting individuals and groups in the community).
Accessing the community and being a part of your community is important. Supports in this area assist people to complete their grocery shopping, to do their banking, attend a medical appointment or fitness group.
Community based in people's homes (supporting individuals in their homes)
Participants in this support area live in their home independently and require assistance to maintain this living arrangement. We work alongside them where necessary to assist with food preparation and completing basic household tasks.
Supporting people with complex behavioural needs (including some people on autism spectrum)
In some areas, we support participants with complex behavioural needs, using our 5 bases of support framework paired alongside positive behaviour support.
Positive behaviour support is a well-known and proven strategy to support people with complex behavioural needs, to enable those we support to have a self-directed quality of life within their own homes and community settings.
We focus all our supports on proactive strategies as opposed to reactive strategies and these strategies are based on the participant's own personalised behaviour support plan.
Behaviours can vary from challenging behaviours to behaviours of concern. With the use of the positive behaviour support model and unconditional positive regard for participants, it can be very rewarding to work in these challenging environments.
Supports can vary from slight redirection when challenging behaviour occurs to using full proactive strategies in the behaviour support plan tailored to suit the participant.
Working with complex behavioural needs and using the frameworks provided by Golden City Support Services, participants are enabled to have a self-directed quality of life and supports them to reach their goals.