A weekly social group for people with a mental health condition to meet new friends and connect with people who share similar life experiences.
Newcomers are very welcome.
What happens at the group?
Every Friday, during school terms, we meet for 2 hours, from 12pm to 2pm.
We do things like:
Meet for coffee at a café
BBQ lunch
Interested in taking part?
Complete the form below and we will get in touch.
Phone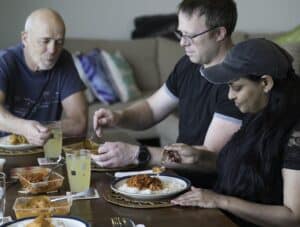 Related news
Catherine Doherty
"When you live with a mental health condition, it's good to be valued and considered as a decision-maker." Cate is a member of the Consumer Participation Group, a group that works with local service providers
studioink
Elaine looks forward to Friday lunch. Not only does she enjoy skipping cooking, she catches up with her friends. The Friday social lunch group have been meeting together every Friday lunch for two years, and
studioink
Your mental health is important. "How each of us care for our mental health is different," says Ian McLean CEO of Golden City Support Services Golden City Support Services is a provider of community based