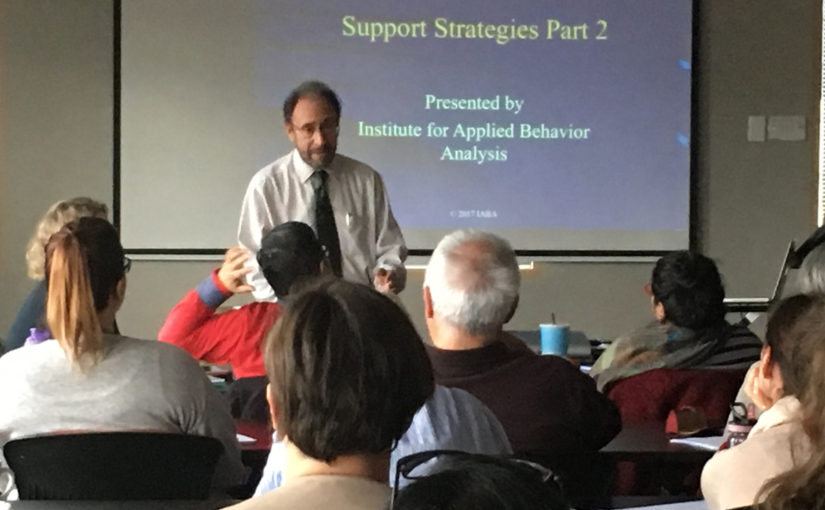 Golden City Support Services makes a difference in people's lives.
"We are proud to have the skills of positive behaviour support in our team," says Golden City Support Services CEO, Ian McLean.
Mid-2017, over 60 people from around Victoria came to Golden City Support Services offices in Bendigo to undertake 'Positive Behaviour Support Training' with Dr.Gary LaVigna.
Represented in the training room were people from a wide variety of professions, from teachers to support people, speech pathology and more. The attendees were learning how to make a change in someone's life—without using restrictive or negative support.
Dr. Gary LaVigna is the Clinical Director of the Institute for Applied Behaviour Analysis in Los Angeles, California. He spends much of his time consulting with organisations—establishing non-aversive behaviour support plans for individuals exhibiting severe and challenging behaviour—and presenting seminars on this topic throughout the world.
"What we give in our four-day training to attendees is the awareness that even the most severe behaviour problems can be solved by positive behaviour support," says Gary.
Golden City Support Services has had a long association with Gary and the Institute of Applied Analysis; over 25 years. "When the skills that Gary teaches are applied, real change can happen for people who have cognitive disabilities and show behaviour of concern," shares Ian.
"Positive behaviour support is a proven practice that works and results in long-term positive change in the quality of a person's life.
"If you restrict someone's behaviour or focus on their behaviour, the situation usually stays unresolved or even becomes worse.
"The safest way of providing support to a person is by using the skills that Gary teaches through positive behaviour support training.
For more information about Golden City Support Services and positive behaviour support contact their Enquiry team on 1800 001 005 or enquiry@gcss.org.au