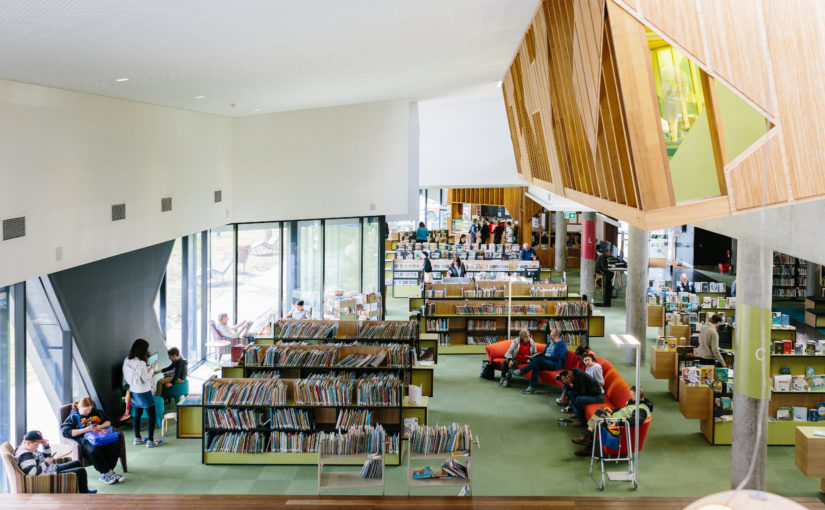 In a world dominated by screens and social media, libraries are the architecture of community connection.
"We have dramatically transformed into becoming so much more than a home for a book collection," shares Kath Waugh, Manager of the Bendigo Library. "We are Bendigo's shared lounge room for people of all ages, abilities and backgrounds."
Once a shush space, controlled and quiet, the library is now a vibrant community hub of music, events, study and entrepreneurial activity. The diversity of library uses and users is what the library seeks to nurture and foster each day. However, with difference, there can also be challenges.
"We are a place where people with a disability feel welcome, and if they like—they can stay all day," says Kath. "Sometimes there have been behaviours creeping in that were making other users feel uncomfortable."
"It is important to us that everyone feels welcome. I wanted to work with disability services to understand what the experience of coming into the library was like for people with a disability."
It takes time to be inclusive. After many discussions over a period of time with the team at Golden City Support Services, the library staff established ways to communicate expected 'standards of behavior'.
"With Golden City Support Services, we created an easy-English guide that we use to explain to people about the behaviour that we expect from our users. Support people worked with their clients to help them understand and abide by the standards and library staff feedback on what is working and what needs a bit of tweaking."
"We act where there is an opportunity to make a difference," says Ian McLean CEO of Golden City Support Services. "We know our community works best together. With great relationships and great skills to communicate we know our community becomes more inclusive and this is good for everyone."
"Inclusiveness," says Mark Hands, Acting Chief Executive Officer of Goldfields Library Corporation "…is stepping back from your unconscious bias. You can never know another person's journey and you can't make assumptions about someone's behaviour. The library is a place where people learn and learning how to relate to one another as different human beings is as important as learning any other skill."
"What we do is invest time in understanding people. Investing time is about relationships between people. Time is finite and invaluable because it builds trust. It is something that money can't achieve."
The library team now have the tools to establish trust and negotiate needs as a whole-of-community-service and also an individual's needs.
"This way of being does take time, but it works for people of all ages and walks of life," says Kath. "It is so important to make time to understand one another because a public library is about providing opportunities that are available to every person in the community."
Kath goes on to say that this is now the default way that the library responds to any conflict and friction in the shared space. "We work to unpack behaviour. It is about respect—we respect you here, but we want you to also respect the library as a shared place for everyone."
"We want our library to reflect the society we want to live in. Here we are a place in our community that aims to be from harassment, discrimination—and free from judgement. Who doesn't want to live a world like that?"