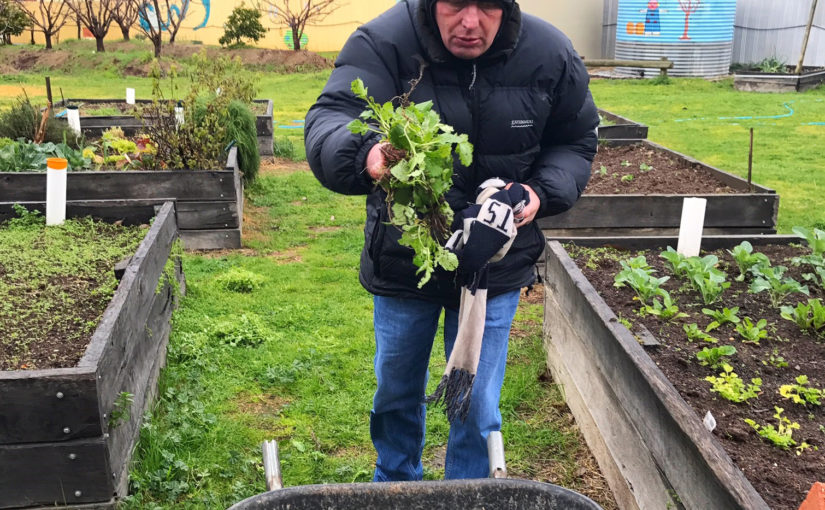 At the base of Victoria Hill, in Energetic Street you will find the Long Gully Community Garden. Fruit and vegies are grown here, but this special place is known for growing much more. The garden's catch-cry is; "you don't need a green thumb, you just need the time to come!"
Richard is an active gardener, having had a plot at the community garden since 2013. He has a keen interest in gardening and attends to his vegetable garden every week, with his support person from Golden City Support Services. Over this time Richard has connected to a community of people who have similar interests to him.
Richard has a disability and has experienced great benefit from being actively supported in his interest, so he can participate in everyday tasks.
Ian McLean, CEO of Golden City Support Services, explains, "When you have choice and control over your life, you are more likely to be living a life that is meaningful to you."
Richard expresses the enjoyment he gets from his garden by the way he reminds his support staff that it is his gardening day. His satisfaction after a day of gardening is very apparent especially when he enjoys an evening meal he has cooked using produce from his garden.
Ian McLean, says, "We are an active part of each local community where we work. We do this because it means a better life for the people we support."
The Long Gully Community Garden, managed by the Long Gully Neighbourhood Centre, is a unique place for the local community to connect and enjoy doing what they love together.
Richard is not the only person to have achieved significant things at the community garden. In April, aspiring gardener, 8-year-old, Henari Clark, was presented the 'Victoria in Bloom' award as the state's best young gardener.
The Victoria in Bloom award recognises the great work of gardening enthusiasts living in public or community housing. It is an award that thanks individuals for their hard work that contributes in such a positive way to their community.
People who frequent the gardens include Long Gully residents, a local playgroup, groups of people with special needs or disabilities, and the elderly.
Many have found this garden to be a quiet and restorative place to visit – just to sit and have a cuppa under a tree, listen to the birds and smell the flowers.