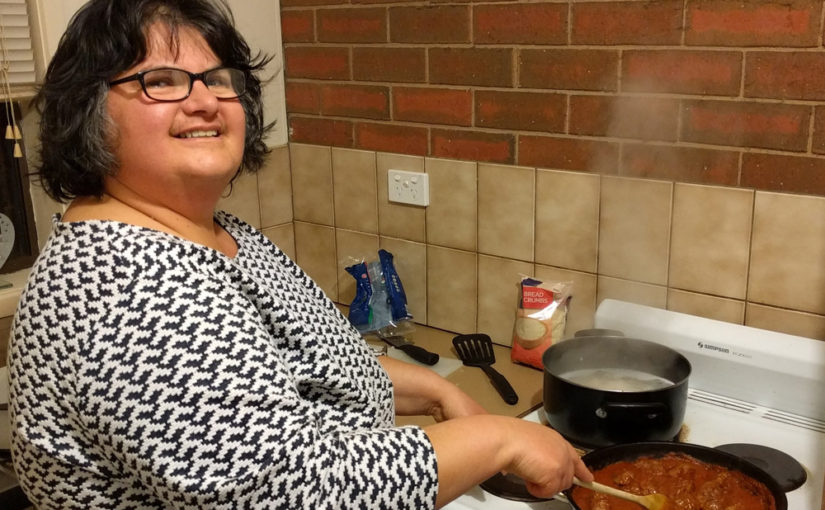 "Every time I serve up my cooking I feel a buzz. I feel so pleased that I have done it all myself."
Bek has found a new love and passion in cooking.
Until recently she was dependent upon her parents providing her food each week. Now when they come over, she shares with them what she has cooked herself.
Bek has been learning how to cook for about a year now with her support person, Toni from Golden City Support Service. "I spoke to Golden City Support Services about my goal to learn how to cook. I decided I didn't want to have to depend on my parents anymore," she said.
Each week Toni comes over to Bek's home and together they work out what Bek will cook for the week. "We find recipes in books and sometimes online.
"Last week I learnt how to cook pasta and rissoles. I know how to cook vegetable soup, casserole, different types of pasta and Shepherd's pie," she says.
Bek is also learning about preparing a shopping list and budgeting. Bek goes grocery shopping with her Golden City Support Services support person Meg.
"Sometimes I can't find what I'm looking for, and it is great to have Meg with me to look together. Sometimes I like to go by myself," says Bek.
"I'm still trying to budget for shopping. My best tip to prepare for shopping and cooking is to put money aside for the grocery bill." Each month Bek does a household budget with Toni or Meg. "Having a budget is helpful, but it is harder than it looks."
Right now, with the colder months, Bek is learning to cook using the oven. "I'm really looking forward to cooking a roast." Bek thinks for a moment. "I am also wanting to learn more Asian food recipes."
"Cooking has always looked so easy. My Dad is an excellent cook and he makes it seem so easy, but cooking wasn't easy for me," shares Bek. "Once you learn, you do get more confident."
Bek has overcome challenges like working out the temperature to cook different dishes and getting all the right ingredients together for a dish. She smiles as she remembers; "…there have been a couple of times I have forgotten some of the ingredients.
"I really enjoy cooking and enjoying the meals I make."