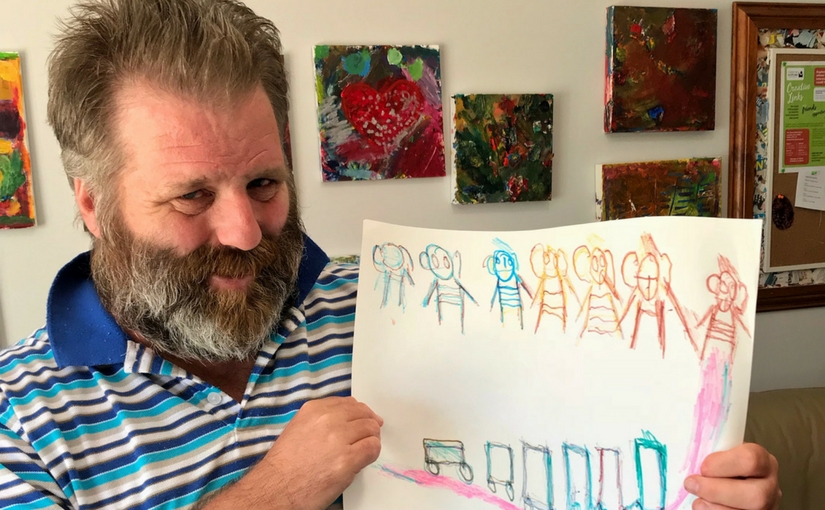 Creative Links takes place every weekday and aims to build the capacity of individuals in finding their interests and as well as sharing their interests with others. The role of communication, making interactions successful, is essential.
Robbie, a regular Creative Links member is eager to be understood and to understand others. Sometimes this is a challenge.
When Robbie first began attending Creative Links he would answer 'yes' and 'no' to questions. These days he is often the one to start a conversation with "Good morning, how are you?"
We have been very interested to see this change and to understand what it takes for communication to be successful.
Two things we know that are essential for good communication are trust and a positive social environment.
Communication is essentially based on trust. It is an exchange that requires both parties to share with each other. If we don't follow through on what we've said, it breaks trust and there is little point in participating in communication. At Creative Links we are particularly attentive to this principle.
Communication is social. We communicate because we want to connect with others. At Creative Links we have been looking for various ways that people can express themselves.
Expression through creativity offers many opportunities to communicate. Robbie does extraordinary artwork. His drawings often include figures.
We observed that the figures in his drawings related directly to the group of people around him. Robbie draws the exact number of people who are present and depicts them in the activity they are engaged with. Sometimes they are gathered around a table for lunch or going together on an outing.
Robbie shows us the importance of both individual expression and the social environment that makes communication something we want and need.